Celia Lawley
Show business runs in the family...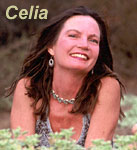 Her mother was a professional dance instructor for Arthur Murray.... her great uncle Bill's vaudeville act of "Yates & Lawley" helped get Bob Hope started!... her grandpa "Red" ran a carnival train & managed / promoted Hawaiian singing troupes in the 30's...grandma was an underwater synchronized dancer... her great aunt Louraine was a professional singer & pianist... her great grandfather made violins & played for dances...
Since age 5, Celia Lawley has been singing & playing the fiddle. After 18 years of classical training & a degree in violin performance from USC, she began exploring country music.
Some of her earliest musical memories are not of Bach & Beethoven, but the sounds of dad's Son's Of The Pioneers records floating through the house. In getting back to her roots she found her heart truly lives in the country.
Celia's rural upbringing, complete with tumbleweeds, horses & tadpoles, is reflected in many of her songs like Jennilee, from her first album, which was written for her cousin's kids, but colorfully draws from her own childhood experiences. ..."Jennilee, where can your brother be? Jenny, Jennielee. He's down by the creek digging for gold, feet in the mud jump Mr. toad"...
This San Diego native wrote her first song at age 7 & since 1990 has written, recorded & released 4 original music projects on her Raptor Records Label.
Celia has toured extensively throughout the US & Canada performing at fairs, festivals, rodeos & special events.
Her dad who dabbled in concert promotion in the 50's passed along some advise from grandpa "Red" who always used to say... "keep the flash up front"! If "Red" was around today, he would get a kick out of Celia's flamboyant, interactive performance style.
Dubbed a "turbocharged dynamo"...with compelling appeal... by the Yakima Herald...

The Canadian Trail Times called her a musical dynamo...Celia's infectious enthusiasm guarantees the success of each show...an entertainer in every sense of the word... Celia's fiddling prow ness is evident when she plays Orange Blossom Special...a master at drawing even the most stoic of viewers from their shells...

The Canadian Creston Advance calls her an ...energetic & multi-talented entertainer...

The Camrose Canadian said...If her endless supply of energy & effervescence aren't enough of an amazing spectacle, then listen to her voice...

The Greenfield News in California says...Celia is one-woman dynamo show... ...put unbelievable energy & tons of talent in a pretty package- you have Celia...she sings like a lark & plays a barrage of music on guitar, fiddle, mandolin & piano...energy & stamina are a big part of her personality & it shows all the way through her act. It is the driving force of her compelling appeal...

The Calgary Stampede says... she is a very versatile & dynamic performer. Her enthusiasm & energy together made her appeal to all age groups in the crowd..

The Poway News Chieftain calls her a dynamo in cowboy boots...'fiddlegirl loves what she's doing'!...

Slamm Magazine of San Diego reviewed Celia & Thunder Rose's Positive Thrill CD- ...she's a fiery blonde who often calls herself "Fiddlegirl" when she's performing (listen to "Outrageous Orange Blossom Special" to find out why") ...her real talent lies in songwriting...the slow crooners. The heartbreaking ache of "It Could Be You," for example, reached out and grabbed me by the throat immediately. Same with the bittersweet "When I Look In Your Eyes" (which would be covered by Joe Cocker in an instant if I ruled the universe)... A nice disc with great backing, I recommend this disc to anyone who's seen Celia's show & would like a souvenir of her performance. I also recommend it to any A&R rep who's looking for some killer country ballads.
Celia's magnetism is rooted in realism, sculpted by experience. Her greatest rewards come from reaching out & touching other hearts with her music.
She shows her versatility as a songwriter & vocalist with -the high octane fun of...
A Cowgirl Can Rodeo Too..."I'm gonna waltz my way thru Texas, lasso up San Antone, barrel on down by Beaumont, and ride like hell back home. Cause you're the last Cowboy to leave me for the rodeo"... -the intimate storytelling of...
Waiting For The Fish To Bite..."I'm gonna sit right back & watch the show as it unfolds by the hour. Someone in heaven's getting married and the stars are throwing a shower. Champagne is gonna fall from the sky & gather like dew in my cup. I'm gonna drink it in 'til I get my fill, or at least 'til the sun comes up"... -emotionally riveting ballads...
Lullaby For A Restless World..."A circle can mean so much, like when the moon is full, or when your arms surround me now with all the love they know. Stay in my arms forever, hold me 'til the sky turns blue, & every night as the stars shine bright I'll fall again in love with you"...
Celia's passionate energy & polished musicianship as a solo artist or with her talented back-up band Thunder Rose, create a stunning & unforgettable entertainment experience. Celia has a special way of capturing the magic of life with her music. You don't have to be a country music fan to love Celia - just love to live!
1990
Driving On Empty
1st original project (solo)
recorded: LA & Calgary, Canada
1992
Going Up The Mountain
2nd original project (solo)
recorded: San Diego
1994
Nothing Better To Do
3rd original project
studio musicians
recorded: Nashville, TN
1998
Positive Thrill
4th original project
Celia & Thunder Rose
recorded: San Diego
Go to Celia's Early Years Photo Album